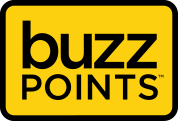 Our Buzz Points™ Rewards Program turns your everyday purchases into rewarding experiences!  It's easy, it's free and it supports local businesses! Buzz Points™ is a free feature of your account that pays you points for your Midwest Community Federal Credit Union Debit Card purchases. Then you can redeem your points for gift cards from participating local merchants.
Earn Points Everywhere You Shop
Every $1 spent with your debit card earns you points
Bonus points are given when you shop at a Buzz Points Merchant
Redeem your points for Rewards, or gift cards, to your favorite business
Shop Local to Earn More
For every dollar you spend you will receive:
A minimum of 2 points at a Recommended merchant
1 point at a Local merchant
1/2 point at a National merchant
While you earn points with every transaction, everywhere you shop, Buzz Points wants to reward you bonus points for shopping locally. Local businesses support communities and enable the city to thrive both financially and philanthropically. Studies have found that up to 58% of local businesses' profit stays in the community versus only a maximum 33% of national businesses' profit. More money in the community means more growth, more jobs, and a more robust local economy.
Building a stronger community, one point at a time.
Consumer Information

Merchant Information